Leadership during a pandemic: Insights from a Water Leader scholar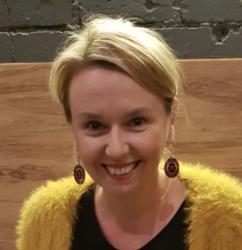 30 June 2020
Kate Berg, Senior Sustainability Officer Climate Change Adaptation from City of Melbourne, was one of the 2019/2020 Clearwater Water Leader Scholarship recipients. She is currently completing the course in Water Leadership with the International Water Centre (IWC) . Clearwater is currently offering two scholarships for the Water Leadership program.
Kate acknowledges that 2020 has been a challenging year to design and complete water project goals. One of the major and unexpected learnings she has gained during the nine month leadership course is 'how to lead during a pandemic'. Kate shares her leadership insights below:
Start with self-leadership. If working from home, away from my team, has taught me anything, it's that leadership starts with us. If you are going to lead others, you are going to need to build a strong foundation. We take a deep dive into self-leadership through the IWC Leadership Program where we discuss the three principles of self-leadership: 1) self-awareness, 2) self-reflection and 3) self-regulation. Through my own research I'd like to add a fourth 4) self-compassion/ empathy. So what does this look like:
Self-awareness is knowing yourself really well. Primarily it is about understanding your values and what guides your decision making. Self-awareness in knowing how our behaviour impacts on others. Asking for feedback is a good way to find out.
Self-reflection is a way to accelerate your learning. Carving out some time to think about your day or your week ahead or just past, can give you the brain space to reflect. You can ask yourself what went well, what didn't and how can I do things better next time.
Self-regulation is managing your emotions and your behaviour. In a moment where you might get angry or upset you could take a couple of deep breaths before you respond and reframe the situation
Self-compassion/ empathy is about being kind and talking to yourself like you would talk to a good friend. When you hear negative self-talk, ask yourself would I say this to a friend or colleague? Most likely not. Acknowledge that things are tough right now.