Liveable Communities, Liveable Waterways- Melbourne Water's new incentive program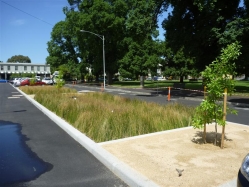 29 September 2020
Liveable Communities, Liveable Waterways. Together with Melbourne Water.
Melbourne Water is excited to share with you our new incentives program Liveable Communities, Liveable Waterways!
Melbourne Water has a proud history of Incentives Programs which have fostered meaningful and long lasting partnerships with our customers and community. The Living Rivers Program has worked closely with 38 local councils in Melbourne Water's service area in delivering stormwater quality projects that have provided a range of environmental and social benefits.
Based on feedback received, the new incentives program will bring together several successful Melbourne Water grant programs into a single streamlined application process. Melbourne Water are making the incentives program more flexible to accommodate the needs of local government and to allow for increased partnership opportunities in enhancing liveability and innovation across Melbourne.
Liveable Communities, Liveable Waterways is an evolution of the previous Melbourne Water Incentives Programs with a focus on innovation, liveability and collaboration across all areas of water management. Liveable Communities, Liveable Waterways will grow on the success of the Living Rivers Program and will allow local government to take action on a broader range of emerging challenges.
Local government will be able to apply for a broader range of funding opportunities for holistic projects and partnerships under Liveable Communities, Liveable Waterways. The application criteria will remain aligned with the Healthy Waterways Strategy objectives for stormwater. Melbourne Water will continue to fund all activities currently funded under the Living Rivers Program.
From October 2020, Melbourne Water will help existing applicants under the Living Rivers Program, Corridors of Green and Community Grants transition to Liveable Communities, Liveable Waterways. Melbourne Water are committed to working closely with our partners in local government to assist in a successful transition. Partnering with local government has been and will continue to be import in achieving healthier outcomes for Melbourne's waterways and bays.
The next step from Melbourne Water will be hosting virtual information sessions for potential new applicants and past program applicants. If you would like to participate in Liveable Communities, Liveable Waterways or to learn more please contact incentives@melbournewater.com.au to be notified about these sessions.