Make Every Drop Count - Target 155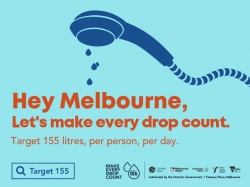 06 December 2019
With drier conditions and a growing population, the need for Melburnians to use water more efficiently is becoming increasingly important.
City West Water, Melbourne Water, South East Water and Yarra Valley Water are working together to address the issue of water conservation through an advertising campaign designed to encourage water saving behaviours.
They are seeking to reduce Melbourne's per capita water usage to 155 litres or less, per day, which was the target during the Millennium drought.
Melburnians have a strong record of water conservation. During the Millennium Drought the Melbourne residents were recognised for their efforts internationally.
This campaign is about putting water conservation back on the agenda for our city. For those new to Melbourne or who were children during the last drought, the campaign is about raising awareness of the water saving behaviours. For those who were adults living in Melbourne during the Millennium Drought, the campaign seeks to reactivate water saving behaviours.
You are encouraged to share these messages with your community to help change the way Melburnians use water.
It's time to change the way we use water. If we each save a little, we can all save a lot.
Melbourne needs you
Everything that makes Melbourne great, from the hallowed turf of the MCG, to our world-famous coffee, depends on a healthy, reliable water supply.
Melbourne is Australia's fastest growing city and Victoria's population is expected to double by 2051. This, along with the effects of a changing environment, is creating greater pressure on our water supplies.
Securing our water supply
Water is becoming increasingly scarce. Melbourne's Water organisations are working together to create a more sustainable water sensitive city.
Its everyone's responsibility - learn how you can reduce your water use
Target 155
Melburnians currently use 162 litres per person, per day. Target 155 encourages everyone to limit their water use in order to reach a daily average of 155 litres per person, per day. Victoria already have permanent water saving rules in place
You can check your water bill to see if you're hitting the target.
Some quick ideas for reducing household water use
Bathroom and laundry account for 40% of use. Older toilets use 18 litres per lush but dual flush use 4.5litres full flush and 3 litres half flush.
Test for leaking toilets with the dye test
Baths use more water than showers
Shorter showers - 4 minute maximum. Efficient shower heads and temperature settings
Full washing machine loads or adjust water level for half loads. Pre-treat stains so don't double wash.
Purchase high WELs rated washing machines and dishwashers
Use less detergent for hand dishwashing or rinse suds off in a second tube
Use a trigger nozzle on hose for watering gardens or washing cars
Water gardens in the evening (automatic sprinklers between 8pm - 10am)
Mulch gardens or drip irrigation
Learn more about how you can save more in and around your home by visiting the Make Every Drop Count website.
Listen to a Target 155 podcast highlighting water saving tips (Interview with Yarra Valley Water Managing Director Pat McCafferty).