Make Every Drop Count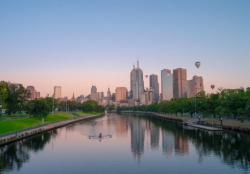 27 January 2022
Melbourne is one of Australia's fastest growing cities. Melbourne's population is forecast to rise from 5 million to 9 million by 2056. This, along with the effects of climate change, is putting increasing pressure on our water supplies.
A recent survey conducted by Melbourne's water corporations found most Melburnians admit they do not know the recommended water usage or what they are using themselves.
Melbourne's four water companies, Greater Western Water, Melbourne Water, South East Water and Yarra Valley Water, have combined to launch their Make Every Drop Count campaign. The site invites Melburnians to take action to reduce average daily individual water usage to 155 litres a day – making every drop count.
Water saving education resources and ideas sharing competition can be found on the Make Every Drop Count website.