Melbourne Litter Hot Spots Project - applications for funding now open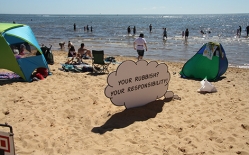 30 July 2013
The Victorian government is investing $7 million over the next four years to protect water quality in the Yarra River (the Yarra) and Port Phillip Bay (the Bay), including addressing litter hotspots.

The Cleaner Yarra and Port Phillip Bay Litter Hotspots Project (Litter Hotspots Project) has been developed as one of several strategies to meet this commitment. With a focus on the Bay and lower Yarra areas, the Litter Hotspots Project aims to engage local councils and community groups in proactive partnerships to develop and implement litter prevention initiatives.

Local government and community organisations interested in taking a partnership approach to implementing litter prevention programs that target key hotspots affecting the Yarra River and Port Phillip Bay are encouraged to apply. Applications close 5pm Friday 30 August.

Visit the metropolitan waste management group's (mwmg) website for more information, and how to apply.

(Image courtesy of mwmg website)