Melbourne Water's new customer-focused website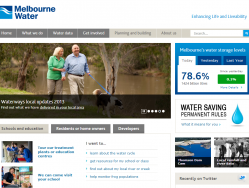 30 September 2013
melbournewater.com.au has a new look, better content and more interactive data. Online information and services are easier to find and use. The website receives 8,000 - 10,000 visits a day, making it one of the most visited Government websites in Victoria. Most users come to find our water storage and rainfall and river level data.

Popular online services:
Planning and Building provides quick access to application forms, guidelines and online tools for experienced developers while allowing developers with less experience the opportunity to learn about the land development process, support them in their project progression and provide useful information such as stormwater management techniques. This section houses content previously found on Melbourne Water's Water Sensitive Urban Design website.

The launch of the website coincided with the first edition of The Source, Melbourne Water's new e-newsletter for government and industry in Victoria. The Source will be issued quarterly and cover new projects and business opportunities as well as providing a regional waterways update.

Subscribe to The Source or visit www.melbournewater.com.au.