Melbourne's Water Outlook for 2022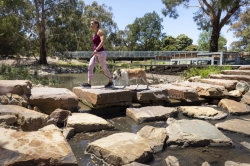 27 January 2022
Melbourne's Water Outlook for 2022 was released in November 2021. The report, prepared by Melbourne Water, Greater Western Water, South East Water and Yarra Valley Water shows Melbourne's water storage levels are the highest they have been for 20 years.
A number of factors have helped increase storage levels and improve water security for 2022.
Higher-than-average rainfall and inflows into storages during 2021.
Desalinated water orders.
Ongoing water efficiency and conservation programs.
While current water storage levels are secure and some customer cohorts are using water more efficiently, the overall demand for water is growing. Population growth mainly drives this, but more frequent warmer and drier days also play their part.
Showing how quickly things can change, over the last year Melburnians changed their water usage quite significantly as a result of working and schooling from home. Residential usage increased to an average of 159 litres of water per person, per day, while business use decreased by 11%.
The report outlines planning for additional supplies that do not rely on rainfall, and increased non-drinking use of stormwater and recycled water as needed in the medium term. Alongside these strategies, the Drought Preparedness Plans sets out actions to prepare for, and respond to, periods of water shortage or water supply emergency.