Moreland City Council unveils their latest stormwater harvesting project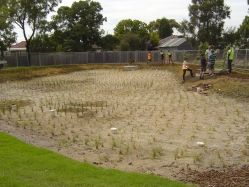 27 February 2012
Moreland City Council, in partnership with Melbourne Water and the Victorian Government unveiled a new $560,000 stormwater treatment and harvesting project at Glenroy's Sewell Reserve last week. Stormwater from a drain running under Glenroy Road will pass through several treatment stages – including a bioretention 'raingarden' basin – before being used to irrigate the reserve.

The project will deliver a number of benefits, including:
• an alternative water supply for irrigation to Sewell Reserve which will provide Glenroy Sports Club with perennial watering
• a reduction in potable water supply with approximately 5 million litres of drinking water being saved annually
• waterway benefits to Westbreen Creek, and ultimately Port Phillip Bay through the annual removal of over 5ML surplus of stormwater flows, 6.5 tonnes of suspended solids, 12kg of Phosphorus and 82kg of Nitrogen.

Another project just completed in Moreland City Council is the Snell Grove Shopping Strip renewal project in Oak Park. The project includes a number of raingardens and tree pits which treat stormwater runoff from roads and roof surfaces.

These projects demonstrate the strategic approach Moreland City Council is taking for the implementation of WSUD and best practice stormwater management.

Click here to read an article published in Moreland City news.