New Clearwater courses in the pipeline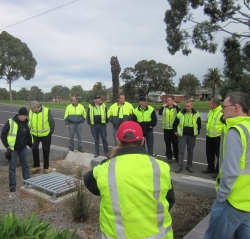 11 January 2013
We are excited to announce two new maintenance-focused courses under development; Maintenance of Street-scale Water Sensitive Urban Design (WSUD) Assets and Maintenance of Wetlands.
Both courses are designed for outdoor staff and maintenance supervisors responsible for maintaining WSUD assets and will introduce the use of the latest guidelines from Melbourne Water - Guidelines for Maintenance of Stormwater Treatment Assets (still in draft form) and Constructed Wetlands Guidelines with Wetland Maintenance Checklist.

Both courses will follow a similar format, a half-day practical session including both indoor and outdoor components. A brief introduction to WSUD and the function of the WSUD technologies will be given. Participants will gain an understanding of the components of technologies and how they work so they are confident to effectively carry out maintenance work. Topics covered include design elements, construction materials, basic species identification, maintenance requirement and spotting when a problem has arisen with the asset.
This training will be delivered on-request. Make sure you have subscribed to our monthly enews to be kept up-to-date on when this training becomes available.