New Construction Hold Points training on demand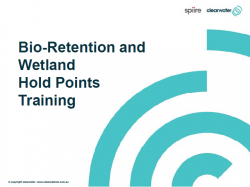 28 June 2018
Clearwater held the first public delivery of Construction Hold Points for bio retention and wetlands on Thursday 14 June. The course was well attended by over 30 practitioners drawn from engineering, construction (supervision and maintenance), landscape architecture and environmental practice disciplines.
The course content covers the six critical construction hold points for the construction of bio retention assets and the eight critical construction hold points for the construction of wetlands. Construction hold points are the specific phases of construction when all parties need to check that construction is occurring correctly. To overcome the challenge of organising construction site group visits and to address the need for practical and visual learning, we have created a short training video with real project hold point inspection footage.
This training course grew from a need identified by Melbourne Water's Living Rivers program. The Living River's program found that applicant councils were frequently asking for support from the Living River team to do site visits to review the construction hold points on funded projects. The intention of the course is to build in-house knowledge, confidence and skill to ensure all parties understand the key construction hold points right from the inception of the project.
Later in the year Clearwater will be offering delivery of this course in-house at your council offices. This is an excellent opportunity to get everyone who is involved in project management and construction of bio retention assists and wetlands within council and also the contractors and suppliers you work with. Delivery options range from a 6hr+ course covering both bio retention and wetlands or 3.5+ delivery covering only one type of asset. If you have potential demonstration sites within your council area that could be integrated into the training these can also be included.
A new Living Rivers program funding round will be open in September 2018. Submit your application online at the Melbourne Water website. The Living Rivers program offers funding to local councils within Melbourne Water's service area and councils can apply for funding to run this training in-house.