Officers for the Protection of the Local Environment across 23 councils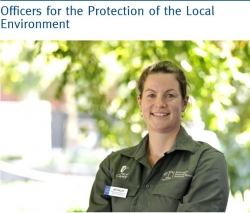 26 September 2019
The Officers for the Protection of the Local Environment (OPLE) places Environmental Protection Authority (EPA) authorised officers in councils to respond to small-scale, lower-risk pollution issues in communities such as dust, odour, noise and small-scale illegal dumping. It also includes a focus on reducing illegal chemical and waste stockpiling.
The Victorian Government is implementing the pilot program in its response to the 2016 Ministerial Advisory Committee inquiry into the EPA.
The OPLE pilot commenced in 2017 with 11 OPLEs employed, authorised by EPA and placed in 13 council offices across Victoria. In June 2019, the Victorian Government committed further funding to expand the OPLE pilot, which has allowed the OPLE pilot to grow to 23 councils supported by 19 OPLEs.
The OPLE pilot is strengthening relationships between EPA and councils, resulting in faster responses to smaller-scale pollution, increased accountability and better outcomes for community, industry and government. You can view case studies that showcase success stories for EPA OPLEs.
The OPLE pilot will continue to 30 June 2020.