Official launch of Darling Street Stormwater Harvesting Project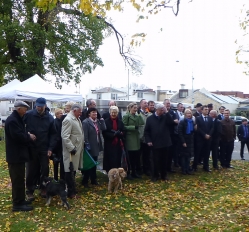 10 June 2012
The official launch of Darling Street was held on Tuesday 5th June. Over 40 people braved the extreme weather conditions. It was attended by local residents, Melbourne Water, councils and stakeholders. Speakers included Professor Rob Adams, Director of Design and Culture from the City of Melbourne who opened the event. Councillor Cathy Oke then thanked and acknowledged all the parties involved. Finally David Ryan, Acting Manager of Waterways from Melbourne Water, reinforced the importance of multi-benefit projects like Darling Street which contribute to greater liveability. The launch concluded with an informal tour conducted by Ralf Pfleiderer from the City of Melbourne who discussed the project in more detail.

The launch demonstrates the ongoing commitment the City of Melbourne and key stakeholder have in delivering innovative sustainable urban water management projects.

Click here to view the Darling Street Stormwater Harvesting Project case study.