Port Phillip Bay Fund: Round Two now open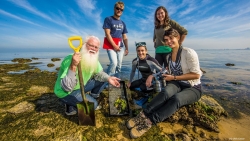 04 December 2017
Port Phillip Bay Fund
The Port Phillip Bay Fund is a grants program that supports community and stakeholder projects working to protect and preserve the environmental health of Port Phillip Bay.
Up to $3.5 million is available for round two. The fund will support local and regional projects which:
encourage partnerships across interested groups and organisations,
enhance the amenity and environmental values in the Bay and foreshore, and
reduce the threats to the health of the Bay, including nutrients.
Round two will be open to both small and large scale projects, with community groups, non-government organisations, local government and other agencies encouraged to apply (round 2 of the fund closes on 14 February 2018).