Port Phillip Coastal hazard assessment tool wins national environment and sustainability award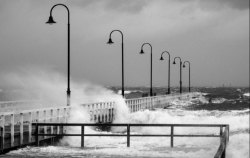 07 April 2021
The Port Phillip Coast Hazard Assessment project, conducted by CSIRO's Data61 in collaboration with the Victorian Department of Land, Water and Planning (DELWP), has received the Environment and Sustainability award at both the Victorian and National Asia-Pacific Spatial Excellence Awards (APSEA) Industry Awards in 2021.
The project is an assessment of the environmental effects of climate change along the Port Phillip Bay coastline, including inundation (flooding), coastal erosion, and groundwater, modelled under several different climate change scenarios.
The project has generated crucial information that can be used to plan for and manage current and future natural, cultural and economic assets, in an area that is home to more than 1.3 million Victorians, and will also be used to set state, regional and council priorities.
Four pilot Local Coastal Hazard Assessments have been previously been undertaken in Victoria for Port Fairy, Westernport Bay, Bellarine Peninsula / Corio Bay and Gippsland Lakes / 90 Mile Beach. Results can be found on the DELWP Coastal Programs webpage.
Information referenced from CSIRO Algorithm online news