Productivity Commission identifies research as being critical for sustainable water management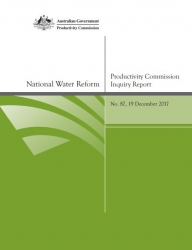 29 June 2018
The Productivity Commission released the National Water Reform Inquiry Report on 31 May 2018 – its first triennial progress assessment against the objectives and outcomes of the National Water Initiative (NWI) 2004.
The NWI is a commitment shared by governments to help Australia manage its water resources. The Commission found that since its creation in 2004, good progress has been made against its objectives.
A key finding of the report indicated that ongoing research and capacity building will be central to Australia's capacity to sustainably manage water resources. The Commission also highlighted the importance of partnerships and collaboration through organisations like the Goyder Institute and Centres of Excellence as well as more informal research collaborations. The Productivity Commission urged governments, water utilities and research institutions to continue working together to advance knowledge, build capacity, develop technology and devise innovative solutions.
Several specific research areas and knowledge gaps were highlighted in the report around:
• adjusting water resource management to respond to climate change
• facilitating an adaptive approach to managing environmental water
• supporting the adoption of outcomes-based environmental regulation for the urban water sector.
Visit the Productivity Commission website for more information about the report's findings and recommendations.