Protecting the future of Port Phillip Bay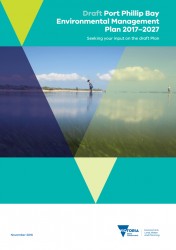 25 November 2016
The Government's $10 million Port Phillip Bay Fund is now open and the draft Port Phillip Bay Environmental Management Plan 2017-2027 has been released for public consultation.
Port Phillip Bay Fund
The $10 million fund will support projects including water quality improvement, foreshore upgrades, dune stability works, amenity upgrades and wetlands improvements right around the Bay and bayside catchments.
It will be open to both small and large scale projects, with community groups, non-government organisations, local government and other agencies encouraged to apply (round 1 of the fund closes on 15 February 2017).
Draft Port Phillip Bay Environmental Management Plan
Developed by the Department of Environment, Land, Water and Planning in partnership with Melbourne Water and the Environment Protection Authority Victoria, the draft Plan is part of the Victorian Government's commitment to ensure Port Phillip Bay remains healthy and resilient over the coming decade.
The draft Plan proposes three goals to guide action and investment over the next ten years:
Stewardship of the Bay is fostered across community, industry and government
The health and community enjoyment of the Bay is enhanced by best practice water quality management
The Bay's habitats and marine life are thriving
Consultation on the draft Plan is open until 10 February 2017.
Follow on Facebook or Twitter #healthofthebay