Register your interest to attend Construction Hold Points Training (Bio-retention Systems and Wetlands) In November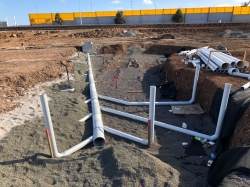 29 September 2020
Does your role require you to understand, inspect, project manage or budget for the construction of WSUD bio-retention systems and wetlands?
The Clearwater Construction Hold Points Training builds practicioner skills and processes in WSUD construction management to ensure WSUD assets are constructed as designed and fully-functional to accept at handover.
This training will provide
a logical and practical framework to conduct critical hold-points assessments to ensure assets are constructed as designed
knowledge of common WSUD construction issues and how to avoid them
an improved understanding of how to streamline the WSUD design-construction-handover process, including roles and responsibilities
a platform to share and discussed challenges, pitfalls and solutions with a network of industry peers
Our trainers, Alexandra Brown and Jamie Comley are experts in their field and bring a wealth of knowledge and experience.
The Training will be delivered over two online sessions on 23rd and 30th of November.
Clearwater would like to hear from you if can commit to attending a November delivery of this popular training.
Please contact Clearwater info@clearwatervic.com.au to register your intention to attend.