Review of the public health regulatory framework for alternative water supplies in Victoria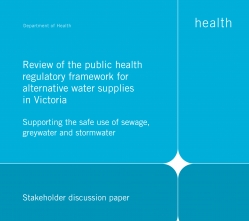 19 September 2013
In February 2013, the Department of Health released a discussion paper to seek feedback on the Review of the public health regulatory framework for alternative water supplies in Victoria: Supporting the safe use of sewage, greywater and stormwater.
Feedback from the review is now available on the Department of Health's website.
A wide range of stakeholders participated in the review including water authorities, local and state government, researchers, consultants, industry bodies and treatment equipment suppliers.
Stakeholder feedback gathered through the consultation period will inform the development of arrangements to improve and reform the Victorian regulatory framework. Recommendations from the consultation period will be provided to the government in 2013.