Stormwater contamination - live monitoring and pollution detection project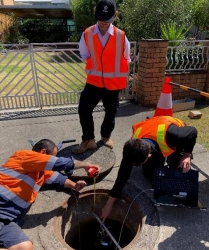 20 June 2019
An industrial area stormwater pollution monitoring project is currently being conducted in a partnership between Melbourne Water, EPA, South East Water, Knox City Council and CAPIM (Centre for Aquatic Pollution Identification and Management).
The project aims to improve stream quality within Dandenong Creek by preventing illegal discharges from industrial land areas. Old Joes Creek catchment area in the Dandenong Creek Catchment has been targeted due to the high level of industrial contamination in the form of metals, pesticides, hydrocarbons and surfactants.
The industrial areas where these pollutants originate are challenging to manage, monitor and enforce compliance due to rapid business turn over, the aging buildings and infrastructure, the movement of heavy vehicles, after-hours activity and the level of interest/ education/ waterway knowledge of the business owners in the area.
The trial has employed two remote pollution detection technologies - existing ultrasonic level / flow sensors with gas detection and rainfall radar detection capabilities (Blok Aid) and low cost prototype Arduino units with gas and flow rate sensors. These technologies can be installed in trunk and minor drainage systems - the BokAid unit having the advantage of surface installation and the Arduino units costing less than $100 per unit.
Already the project has found concerning trends in water flow behaviour and varying quality of flows within the area. Information captured from the units has been transferred to servers in real time for alerts and data analysis to determine potential sources.
The widespread use of detection technologies has exciting possibilities for detecting, monitoring and rapidly responding to negligent or deliberate pollution. Watch the Clearwater website for published results of the study mid-2020.
Additionally, Clearwater will be collaborating with Melbourne Water to run a tour to introduce the site context and project partnerships, explore the potential benefits and limitations of live monitoring and find out where this type of approach might be applicable within other areas of Victoria.
Listen to 3AW interview with Heath Baker, Melbourne Water Senior Planning Engineer