Stormwater Vic Award Winners 2019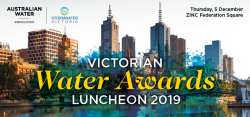 10 December 2019
Congratulations to the 2019 Stormwater Victoria Awards for Excellence Winners.
Winners received their awards at a Gala Water Awards Luncheon held in partnership with the Australian Water Association.
View the Stormwater Awards and AWA Victorian Water Awards websites for further details on the fantastic spread of projects happening across the industry.
Excellence in Infrastructure - Highly Commended
Daylighting Dandenong Creek
Melbourne Water
Excellence in Infrastructure - Winner
Two for One - Tim Neville Arboretum & Dobson Oval IWM Scheme
Knox City Council
Excellence in Integrated Stormwater Design - Higly Commended
Alma Park Stormwater Harvesting System
City of Port Phillip, E2 DesignLab, Simpson Construction, Melbourne Water
Excellence in Integrated Stormwater Design - Winner
Returning Our Lost "Wet Spaces" to the City's Environs - Creating Places Where People and Water Meet
Knox City Council
Excellence in Policy and Education - Winner
Our Future Cities: 2018 Interdisciplinary Design program
Our Future Cities, Loci Environment & Place
Excellence in Research and Innovation - Winner
Pollution Prevention Program, Enhancing Our Dandenong Creek
Melbourne Water
Excellence in Research and Innovation - Winner
Urban Streamflow Impact Assessment (USIA)
Streamology Pty Ltd, CT Environmental, Sydney Water, University of Melbourne
Excellence in Strategic and Master Planning - Winner
Chain of Ponds Collaboration - Transforming the Moonee Ponds Creek Through Collective Action
Melbourne Water, Moreland City Council, Moonee Valley City Council, Hume City Council, Melbourne City Council, Yarra Valley Water, City West Water, Parks Victoria, Victorian Planning Authority, Conservation Volunteers Australia, Friends of Moonee Ponds Creek, Friends of Upper Moonee Ponds Creek, Kensington Association, Moonee BUG, Living Colour Studio