The importance of stormwater management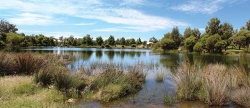 26 July 2021
A recent article in Utility Magazine gives an excellent overview of the case for stormwater treatment and harvesting in restoring our waterways, supporting liveability and reducing the use of potable water.
The article also explores a range of stormwater harvesting case study examples in Victoria and NSW and lists projects funded through City West Water's Stormwater Harvesting Partnering Fund.
If you are still trying to build stormwater leadership in your organisation or get new staff ot understand the value of stormwater harvesting this article is an excellent resource.
Access the Utility Importance of stormwater management article here