Trial of fungi based wetland treatment solution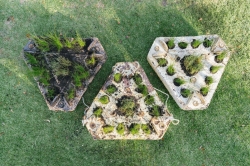 16 April 2021
A trial of a new fungi-based floating wetland treatment system is underway and will be on display at the Royal Botanic Gardens in Melbourne until June 2021.
Above the water, the dense foam-like mushi (mycelium — the underground network of fungi) is planted with native wetland species becoming a habitat for birds and insects, while underneath, the plant roots absorb excess nitrogen and phosphorous. Rather than following the traditional approach to floating wetlands using plastic, mushi wetlands use mycelium, the fast-growing feeding body of fungi, combined with other organic matter. The mycelium, from reishi or lingshi fungi, provides a robust, versatile and sustainable material that is set within specially designed moulds and expands as it dries to form the structure of the floating wetlands.
The wetland prototype is the result of a research and design collaboration by Swinburne University of Technology, studio edwards and Arup.