Upcoming US Study Tour - Water Quality Markets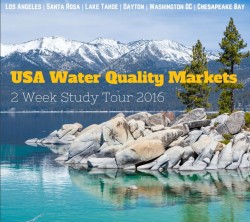 04 May 2016
Are you interested in learning from the leading US experts in water quality trading*? Are you keen on making strong connections with other Australian water professionals?
Then you might want to take advantage of a unique study tour opportunity organised by RMCG in partnership with Kieser and Associates.
The 2 week study tour takes place in October 2016 and is open to a maximum number of 30 participants. The tour includes:
Site visits of 6 water quality trading schemes, including briefings by world leaders in water quality trading
Tour accompanied by Mark Kieser, internationally regarded expert in water quality markets
Networking with other leading Australian water professionals
Flights and coach transportation; accommodation in all cities
Breakfasts, welcome drinks and two sponsored dinners
Free time in wineries, Lake Tahoe and Washington DC
For more information, check out the study tour brochure!
* If you are unsure about what 'water quality trading' involves, check out the section 'What is Water Quality Trading?' in this paper.