Updated Water Sensitive Projects Benefit Cost Analysis Tool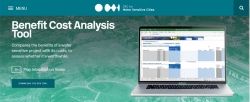 23 November 2021
The CRC for Water Senstive Cities Benefit Cost Analysis (BCA) Tool has recently been updated. The BCA tool applies a structured and systematic process to comparing the benefits and costs of water sensitive projects, to determine whether they are worthwhile and develop a holistic business case.
It guides users through key steps to define the project, identify options, identify information requirements and gaps, and then undertake the BCA assessment.
The tool is fully consistent with BCA guidelines prepared by Australian governments.
Read Industry Note on the updated tool