VC154 Integrated Water Management - Breakdown of Changes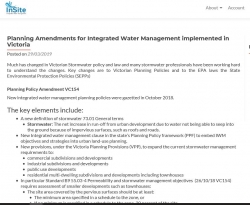 02 July 2019
Are you seeking a simple summary of the elements of the VC154 stormwater planning amendment? One that highlights what each of the previous conditions were, and what new requirements they have been replaced with?
Insite Water have put together this terrific summary listing the 10 key clauses that have changed or been added and how they link to each other. From the overview on the website you can download a handy PDF.
When the Clearwater decision tool becomes available, the tool will step you through all of the stormwater planning requirements in relation to your particular development type.