Victorian audit on supplying and using recycled water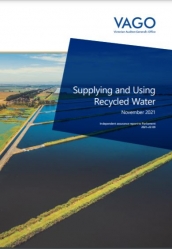 08 February 2022
Recycled water could be a valuable resource if there was more community awareness surrounding it and better guidelines for using it, according to the Victorian Auditor General.
This short video explains the audit conducted by the Victorian Auditor-General's Office looked at selected government approaches to recycled water use and the explored the barriers associated with it.
The audit looked at the Department of Environment, Land, Water and Planning (DELWP), Environment Protection Authority Victoria (EPA), Barwon Water and City of Greater Geelong.
The November 2021 the following reocmmendations were to DELWP and EPA on community engagement and development of further guidelines.
Both the DELWP and EPA have accepted the recommendations.
For full details on the audit and to acces the recommendations report visit the Auditor General VAGO website