Victorian Government seeking feedback on new environmental protection laws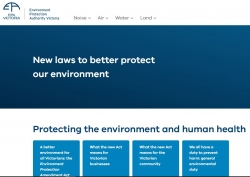 26 September 2019
New Victorian environment protection laws are intended to come into effect on July 2020. The new laws are supported by a range of existing regulations and standards.
The Environment Protection Authority Victoria (EPA) and the Department of Environment, Land, Water and Planning (DELWP) are working together to help Victorians seamlessly transition to the new laws.
The Government is encouraging all Victorians to review and provide feedback on the proposed environmental protection regulations and environment reference standards. Public comment is open from 2 September to 31 October 2019.
You can access the detail of the new laws and the timelines for providing feedback on the Engage Victoria platform.