Water Innovation Lab Australia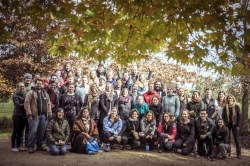 28 May 2018
Developing collaborative innovation solutions to the region's water challenges
In May this year, forty national and international participants, from engineers to entrepreneurs, between the ages of 20-35 years, gathered in Melbourne with one goal: creating collaborative innovations to respond to our most pressing urban water challenges. These activities were part of Water Innovation Lab (WIL), a global initiative of the Canadian NGO Waterlution, brought to Australia for the first time in 2018.
The young water leaders from over ten countries were asked to reflect on emerging and future global trends, learn about systems thinking, innovative tools and techniques and work in teams to think through complex social and technical challenges in the water industry.
With Melbourne Water and Clearwater as Lead Partners, alongside Innovation Partners Jacobs and the Water Services Association of Australia, and community and advisory partners DELWP; City of Melbourne; Resilient Melbourne; Yarra Valley Water; Water Research Australia; ICEWaRM and the International Water Centre, the Australian WIL dealt with themes such as: Low-Cost Tech & Solutions for Rural Access; Traditional Knowledge for Water Management; Urban Design; Water Quality & Resilience; and Agriculture, Drought and Flooding.
Clearwater hosted a two day field tour as part of the WIL to set the local context, outline water challenges and innovations and the socio-cultural understanding of water in Melbourne. The tours included a diverse range of topics & projects, including:
Indigenous history walk along the Yarra
Briefing on the Yarra Strategic Plan
Tour of the Western Treatment Plant
Panel session at Melbourne Town Hall
City of Melbourne Stormwater Harvesting guided walk in the Fitzroy gardens
Aquarevo water efficient environmental housing estate in Lyndhurst
Water bug and frog monitoring activity at Tirhatuan Wetlands
Daylighting the Dandenong Creek project
Little Stringybark Creek water retention and creek restoration project
Rural Land Program property in the upper Yarra catchment
Participants who attended the Water Innovation Lab described it as "a fantastic forum to define challenges in the water sector; learning and connecting in a vastly diverse group reinforced the holistic nature of the water industry and the enormous potential water has to enhance our communities" (Andrew Tipping, Engineering Graduate, Melbourne Water) and as "an opportunity to share knowledge with like-minded people around the world. The Lab showed the passion and drive from young water professionals who want to make a difference in the water sector" (Claire O'Reilly, Engineering Graduate, Melbourne Water).
A big thank you to the great group of engaged participants and excellent presenters who made the tour days possible and enjoyable!
More on Water Innovation Lab 2018
To find out more about the experiences of the Water Innovation Lab Australia, check out the following links: