Water Security listed as Infrastructure Australia priority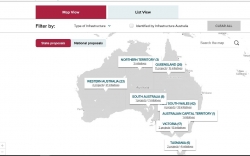 03 March 2020
The need for a National Water Strategy and strategic planning for water use and management have recently been listed as priorities by Infrastructure Australia.
The National Water Strategy would focus on town and city water security and would be expected to explore range of solutions to be considered for capturing, managing and distributing water, Infrastructure Australia has an Australia wide interactive infrastructure priority map which can be filtered by infrastructure type.
This comes after the NSW Government announcement in December last year that they were considering the evacuation of as many as 90 NSW towns that were on the verge of running out of water.