Water Sensitive Cities 2012 Study Tour Group return home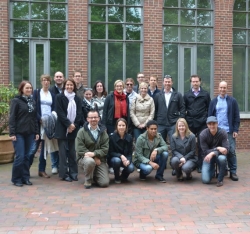 19 June 2012
The Water Sensitive Cities 2012 Study Tour group, comprising of 18 young water professionals from across Australia, have now completed the overseas leg of their trip. The group travelled to Singapore, the UK, Sweden, Germany and the Netherlands to develop their knowledge of integrated water management and to draw out relevant learnings that can aid Australia in moving towards a Water Sensitive City.

We caught up with Nicole Sexton, Senior Planner Strategy and Sustainability from Barwon Water, who attended the Study Tour. Nicole said the following;

"I feel that I have grown both personally and professionally through my involvement in the Water Sensitive Cities Study Tour 2012. I have learnt a lot from the various sites that we visited and people we spoke with. I found that the key message that came through for me was the need for consistent and clear leadership (and/or champion), a clear vision and flexibility in regulations for projects to fully realise their vision or original objectives. Projects that had these elements also demonstrated great examples of effective collaboration and stakeholder buy in. My involvement in the Water Sensitive Cities Study Tour also gave me an excellent insight into how multi-disciplinary teams can work successfully together toward an agreed outcome. I am very excited to continue to work with the other tour participants to gather our learnings and share our experiences with others who are working toward more Water Sensitive Cities."
Nicole produced a poster presentation for the Healthy Cities Conference in Geelong on 6-8 June. The poster provides a snapshot of the sites that the group visited. Click here to view the poster.

The Study Tour Group will be compiling material and analysis of the sites that they have visited. Once this material is available we will share it with you.
Visit the Water Sensitive Cities Study Tour website for more information.