Yarra River Protection MAC releases Discussion Paper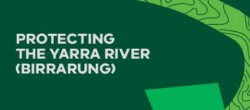 04 July 2016
On Friday 1 July 2016, the Yarra River Protection Ministerial Advisory Committee (MAC) released the Protecting the Yarra River (Birrarung) Discussion Paper. The paper outlines key issues and proposes a new management model to protect the Yarra River.
The MAC is encouraging feedback from the community - you can contribute by making a submission, answering the survey, or suggesting an idea for the Victorian Government's proposed Yarra River Protection Act and Yarra Trust (http://haveyoursay.delwp.vic.gov.au/protecting-the-yarra-river).
This is a once in a lifetime opportunity to protect the Yarra for future generations!
Submissions close at 5pm on Friday 5 August 2016