Community consultation and interpretation is paramount to promoting the benefits associated with Integrated Water Management (IWM).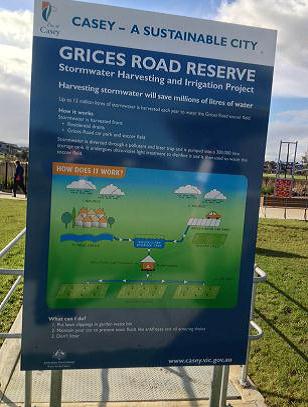 Grices Road Reserve Stormwater Harvesting Interpretive Signage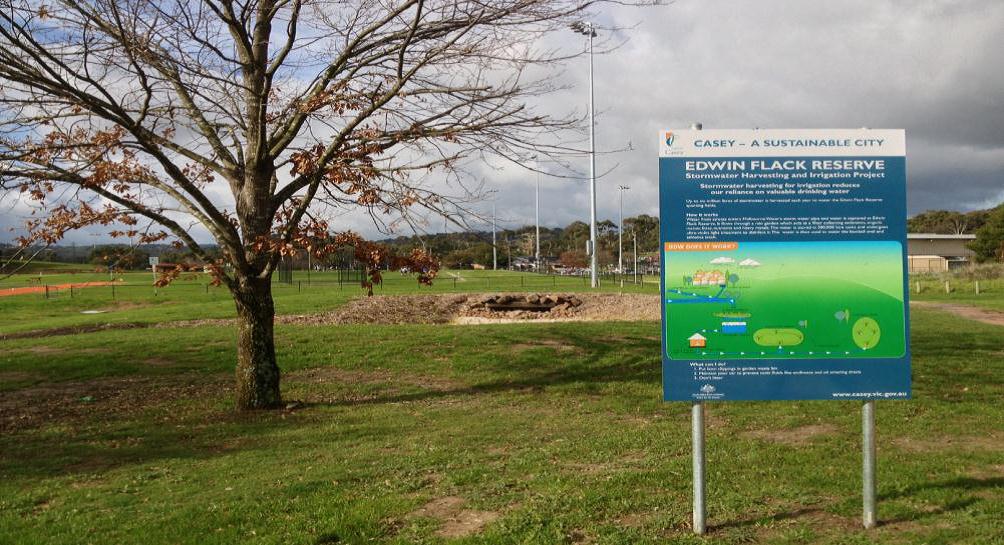 Edwin Flack Reserve rain garden in construction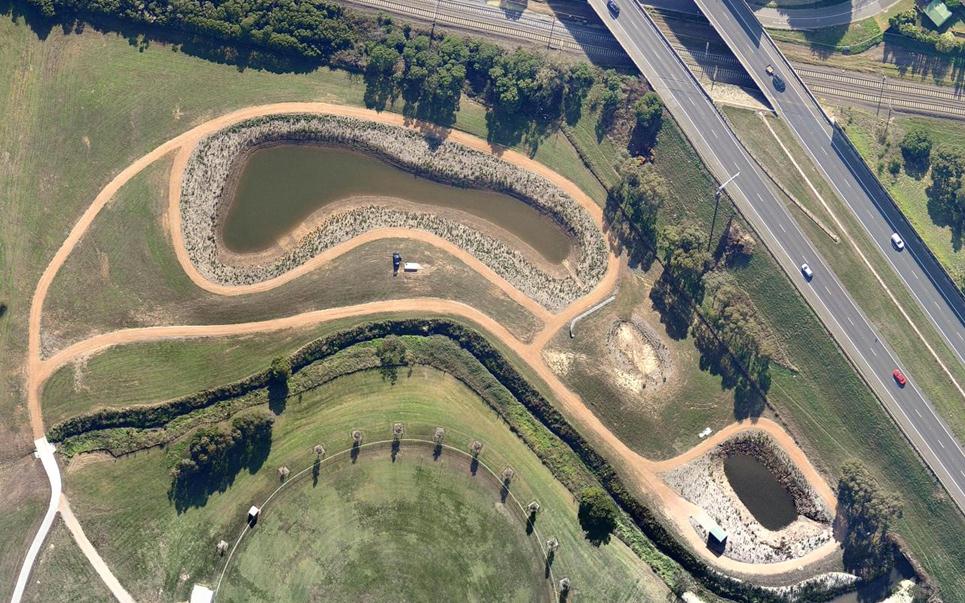 Stormwater harvesting at Sweeney Reserve. Anti-clockwise: sediment catchment pond for water coming from Melbourne Water's drains, raingarden removing gross pollutants, storage pond at the top.
Casey Stormwater Harvesting and Re-use Projects
Casey City Council
PO Box 1000, Narre Warren, VIC 3805 | Map:
Published: 08 July 2014
Project Overview
Open spaces within the City of Casey are important to the community for liveability, amenity and well-being. In recent years, diminished water supplies and restrictions, due to drought, have posed challenges for irrigating council reserves and, in particular, sporting fields. To reduce council's reliance on potable water, the City of Casey has strategically mapped out opportunities to decrease potable water use as a result of council's Sustainable Water Use Plan. By replacing mains water with harvested stormwater, grassed sporting fields can be maintained as recreation resources.
Council has effectively drought-proofed three popular open space sporting fields at Grices Road, Edwin Flack and Sweeney Reserves, by constructing stormwater harvesting systems. The projects were staged over three years, with the City of Casey and the Federal Government investing more than $1.9 Million.
In the initial concept design, it was determined if stormwater could be harvested from a large residential sub-catchment. The volume of stormwater that could be harvested from the catchments was detailed using catchment modelling, Music v4. conducted by AECOM Pty Ltd. Detailed design modelling was completed by Fisher and Fisher Pty Ltd for Edwin Flack and Sweeney Reserves, and in the case of Grices Reserve, catchment modelling was conducted by CPG Pty Ltd.
The City of Casey's stormwater harvesting projects demonstrate council's commitment and leadership towards innovative water management solutions. All three stormwater harvesting systems include Water Sensitive Urban Design (WSUD) features such as gross pollutant traps, sedimentation basins, and storage and raingarden. A considerable amount of pollutants are filtered out as the stormwater passes through these WSUD features. Before treated stormwater is used for the irrigation of sporting ovals, ultraviolet light (UV) is applied to the water to disinfect it. Consideration has been given to the treatment performance of the system and a reduction in contaminant loadings which would meet industry best practice.
The stormwater harvesting projects will:
Save up to 39 million litres of potable water per annum.
Reduce pollution running into the council's waterways.
Secure the City of Casey's future water supplies.
Drivers and Objectives
Council to lead by example and increase community understanding of sustainable water management.
Improve the security of water supplies and keep reserves green to improve community health and wellbeing, even during dry periods.
Improve the health of waterways by removing pollutants from stormwater runoff.
Reduce the demand on potable water supplies.
Organisations
City of Casey (Responsible Council)
City of Casey's Sporting Clubs
Local schools: Berwick Fields Primary School & Berwick Secondary College
Melbourne Water Security through Stormwater Harvesting (WaSSH) Councils
Melbourne Water
Life Savings Victoria (undertook the risk assessment for in-land constructed water bodies)
Federal Department of Sustainability, Environment, Water, Population and Communities (funding partner)
AECOM Pty Ltd (design consultant)
Fisher and Fisher Pty Ltd (detail design)
CPG Pty Ltd (detail design)
Lasergrade Pty Ltd (construction consultants Grices Road Reserve and Sweeney Reserve)
All Waste Solutions Pty Ltd (construction consultants Edwin Flack Reserve)
Project Outcomes
The projects provide improved recreational facilities, and a better future outcome for both the environment and the community.
The combined projects are a great result for the City of Casey's sporting facilities. It showcases what can be achieved locally, when different levels of government work together to deliver a positive community, financial and environmental outcome.
Modelling shows up to 39 million litres of stormwater can be harvested annually.
Annual pollutant removal modelled in MUSIC predicts 217,000 kg of sediment, 241 kg of nitrogen and 250 kilograms of phosphorous.
Wetland systems in Sweeney Reserve Stormwater Harvesting Scheme increases biodiversity and habitat value.
Secure future water supplies for three major sporting ovals.
The raingardens at Grices Road Reserve car park improves water quality, creates a healthier environment and enhances visual amenity for users of the reserve
Lessons Learnt
The successful delivery of the stormwater harvesting projects was a direct result of council's leadership and stakeholder's commitment to deliver the project/s.
Community consultation and interpretation is paramount to promoting the benefits associated with Integrated Water Management (IWM).
IWM requires commitment from Federal, State and Local Government.
The process of receiving approval from water authorities can be improved for timely delivery of the projects.
Council time and investments, required as in-kind contribution, was underestimated.
It is difficult to estimate capital costs associated with IWM projects. Materials, technology and construction costs can vary significantly.
Learn by doing - council developed increased competency in operating the stormwater harvesting projects.
Future maintenance requirements need to be considered early - during the design phase of the project.
Project Cost
The overall capital cost for Grices Road project was $390,508 (GST excl.).
The overall capital cost for Edwin Flack project was $497,416 (GST excl.).
The overall capital cost for Sweeney project was $1,081,159 (GST excl.).
Timeframe
Conceptual design February, 2009
Detailed design June, 2011
Project start June, 2011
Project completion June, 2013
Contact
Nausheen Obaid
Water Sensitive Urban Design Officer
City of Casey
T 9705 5200
F 9704 9544
www.casey.vic.gov.au