This research provided Yarra Ranges Council with the data needed to develop a long-term strategy for mitigating the impact of stormwater runoff on sensitive riparian ecosystems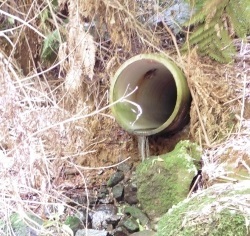 Sassafras Creek stormwater outfall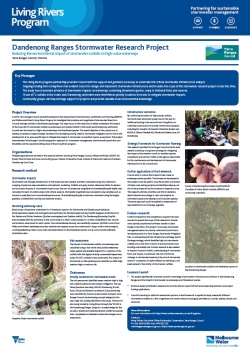 Dandenong Ranges Stormwater Research Project
Yarra Ranges Shire Council
Published: 12 September 2017
Project Overview
In 2016, Yarra Ranges Council received funding from the Department of Environment, Land Water and Planning (DELWP) and Melbourne Water's Living Rivers Program to investigate the locations and magnitude of stormwater flows from Council drainage outfalls in the Dandenong Ranges.
The major focus of the study was to better understand the impact of the Council's 72 stormwater outfalls on waterways and riparian habitat in the South-East Dandenong catchment, in particular the impact on high-value waterways and threatened species. The overall objective of the project was to develop an evidence-based strategic framework for identifying priority sites for stormwater mitigation and to inform the development of an area-specific plan to mitigate the impact of stormwater on sensitive riparian ecosystems.
Key messages:
The study found extensive evidence of stormwater impacts on waterways containing threatened species, many in National Parks and reserves.
16 out of 72 outfalls in the South-east Dandenong catchment were identified as priority locations for works to mitigate stormwater impacts.
Community groups can help leverage support for projects and provide valuable local environmental knowledge.
Check out the full case study (PDF) for more information.
Organisations
Multiple agencies were involved in the project's delivery including Yarra Ranges Council, Melbourne Water, DELWP, Vic Roads, Parks Victoria and local community groups: Friends of Sassafras Creek, Friends of Sherbrook Creek and Southern Dandenongs Land Care.
Project Cost
$135k
Timeframe
2016 - 2017
Contact
Marty White | Executive Officer Biodiversity Conservation, Yarra Ranges Council
Acknowledgements
Melbourne Water's Living Rivers Program contributed to the funding for this project.