Having a central coordinating role and governance structure (either working group or officer) is critical to ensure consistency and momentum across the lifespan of the project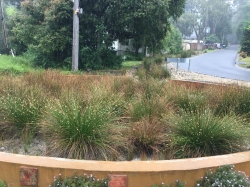 Stormwater treatment system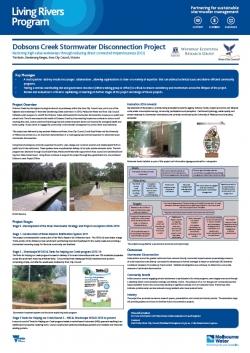 Dobsons Creek Stormwater Disconnection Project
Knox City Council
Published: 12 September 2017
Project Overview
Dobsons Creek has the highest ecological value of any waterway within the Knox City Council area, and is one of the highest value waterways in the wider Dandenong Creek catchment.
In 2010, Melbourne Water and Knox City Council initiated a pilot program to retrofit the Dobsons Creek catchment with stormwater disconnection measures on public and private land. The aim was improve the health of Dobsons Creek by disconnecting impervious surfaces to reduce runoff reaching the creek, restore catchment hydrology towards predevelopment levels and improve the ecological health and water quality. It also aimed to engage the community in stormwater management to protect their local waterway.
Key messages:
A multi-partner delivery model encourages collaboration, allowing organisations to draw on a variety of expertise that can address technical issues and deliver efficient community programs.
Having a central coordinating role and governance structure (either working group or officer) is critical to ensure consistency and momentum across the lifespan of the project.
Review and evaluation is critical to capitalising on learnings in further stages of the project and design of future projects.
Check out the full case study (PDF) for more information.
Organisations
This project was delivered by key partners Melbourne Water, Knox City Council, South East Water and the University of Melbourne and serves as an important demonstration of a multi-agency/government approach to catchment scale stormwater disconnection.
Project Cost
N/A
Timeframe
2009 - 2010: Development of the Knox Stormwater Strategy and Project conception
2011: Construction of Wicks Reserve Biofiltration System 2011
2012 - 2014: Streetscape WSUD & Tanks for helping our Creek program
2015 - present: Tanks for Helping our Creek Round 2 – MBI & Streetscape WSUD
2016 - present: evaluation
Contact
Matt Potter | Knox City Council
Acknowledgements
Melbourne Water's Living Rivers Program contributed to the funding for this project.