Using a skilled contractor that can effectively implement WSUD designs is key to achieving successful outcomes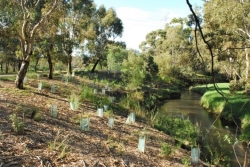 Edgars and Merri Ck confluence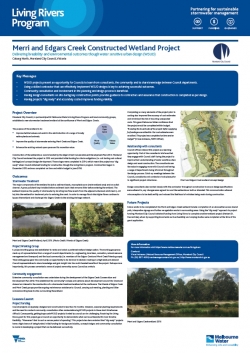 Merri and Edgars Creek Constructed Wetland Project
Moreland City Council
Published: 12 September 2017
Project Overview
Moreland City Council, in partnership with Melbourne Water's Living Rivers Program and local community groups, established a new stormwater treatment wetland at the confluence of Merri and Edgars Creeks.
The purpose of the wetland is to:
Improve habitat values and assist in the reintroduction of a range of locally native plants and animals.
Improve the quality of stormwater entering Merri Creek and Edgars Creek.
Enhance the existing natural open space and its recreation value.
Key messages:
WSUD projects present an opportunity for Councils to learn from consultants, the community and to share knowledge between Council departments.
Using a skilled contractor that can effectively implement WSUD designs is key to achieving successful outcomes.
Community consultation and involvement in the planning and design process is beneficial.
Having design consultants on site during key construction points provides guidance to contractors and assurance that construction is completed as per design.
Having projects "dig ready" and accurately costed improves funding viability.
Check out the full case study (PDF) for more information.
Organisations
Moreland City Council
Melbourne Water - Living Rivers funding
Project Cost
approx $130k for design, soil reports and cultural heritage Management Plan
approx $700k for construction
Timeframe
2013: Project endorsement
2014: Site investigations and concept design development
2015-2016: Construction
Contact
Vince Andreana | Natural Resource Management Officer, Moreland City Council
Acknowledgements
Melbourne Water's Living Rivers Program contributed to the funding for this project.