"This was an opportunity for local government to innovate and demonstrate how it can use local resources to solve a local problem - which potentially has national if not international application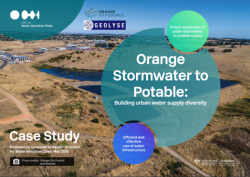 Orange stormwater to potable: Building urban water supply diversity
Cooperative Research Centre for Water Sensitive Cities
Published: 27 June 2018
Project Overview
The regional city of Orange is located approximately 260km west of Sydney in the Central West of NSW. Water supply in Orange was provided by two water storages which captured runoff from predominately rural catchments. By late 2007 the city's water storages were below 40% and significant resources were directed to reduce water consumption. The Blackmans Swamp Creek and Ploughmans Creek stormwater harvesting schemes are capable of providing an average of 1,350ML/year of additional water into the Orange's raw water supply each year. This results in up to 25% of the city's water needs being supplied stormwater collected from the urban area.
Organisations
Orange City Council is responsible for water supply, wastewater management and stormwater management in the area. Council's role extends from planning and designing capital works, construction and maintenance of on-ground assets, to engagement with the community (e.g. demand management).
Geolyse are a local multi-disciplinary consultancy firm who have worked closely with Council since 2007 to deliver secure and sustainable water supplies for Orange.
Department of Industry Water is responsible for the management of the surface water and groundwater resources across NSW. Approval is required from Department of Industry Water for harvesting water from waterways.
NSW Health provided advice on water quality risk management.
Project Outcomes
Cities as water supply catchments
Solutions harness the power of large impervious surfaces in urban environments for generating more reliable water supplies
Up to 25% of drinking water in Orange can be supplied by stormwater harvested from the urban areas.
29% of drinking water can be replaced with treated stormwater via dual water systems in homes in Ploughmans Valley and North Orange
Cities providing ecosystem services
Creation of 4 stormwater treatment wetlands which slow and treat stormwater flows as well as provide important urban habitat
Peak flows reduced in creeks reducing risk of erosion
Conversation of weedy drainage corridors into constructed wetlands has created high amenity landscapes which are now valued by the community
Cities comprising water sensitive communities
Community engagement programs built confidence and support of stormwater harvesting schemes to supply drinking water
Extensive engagement with residents with dual water systems has built an understanding of the fit-forpurpose use of stormwater and drinking water in home
Signage is included in key infrastructure associated with the stormwater harvesting scheme to inform residents and visitors
Lessons Learnt
Be open to all options at the beginning
Helps to have management of the entire urban water cycle under one organisation
Need to be nimble and adaptive in design and delivery
Leadership and a good team is critical
Water assets can provide multiple outcomes
Project Cost
N/A
Timeframe
2008 - 2015
Acknowledgements
CRC for Water Sensitive Cities