Council officers engaged with about 400 businesses within the industrial estate and achieved: improved awareness, improved engagement, and partly reduced contaminant loads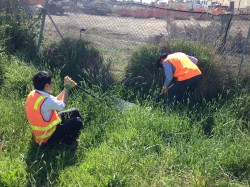 Stormwater drain location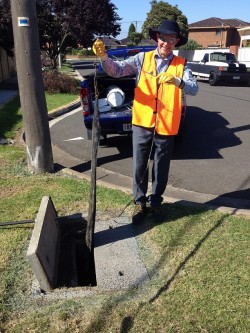 Retrieval of passive sampler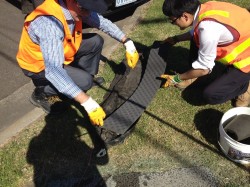 Replacement of passive sampler
Thomastown Industrial Estate Pollution Monitoring and Education Project
Whittlesea City Council
Published: 26 April 2017
Project Overview
The City of Whittlesea recently undertook a two-year monitoring and education program (2014-2016) in the Thomastown industrial estate to address point source pollution entering Merri Creek.
In 2009 and 2010 the EPA and the City of Whittlesea (with CAPIM) investigated pollution in the Thomastown Industrial estate. Results showed that pollution was entering the Merri Creek (via Edgars Creek) through stormwater runoff from industrial sites. Elevated levels of heavy metals and hydrocarbons were recorded. A three step approach was developed to address this:
EPA Victoria to investigate industrial premises in polluting catchments to pin-point polluting businesses.
City of Whittlesea to establish a stormwater education and enforcement program in industrial areas.
City of Whittlesea to undertake an ongoing monitoring program to judge the effectiveness of steps 1 & 2 (2014-2016).
EPA Victoria is currently addressing Step 1 with targeted site visits to some 120 medium to high risk businesses in the area. Steps 2 and 3 have been addressed by the City of Whittlesea with a two year program that received financial support from Living River (Melbourne Water) and ground support from CAPIM. The program tracked down pollution hotspots in the catchment and engaged and educated local businesses about the sources and impacts of unmanaged stormwater pollution.
The catchments
The initial screening of the Thomastown industrial estate showed readings of stormwater contamination were variable across the catchments investigated. Therefore, the area was segmented into three zones – West, Central and East. Each zone was then identified in terms of pollution risk, with the West and Central zones deemed high risk due to the type of industry present and the East (East of Dalton Road) zone deemed low risk. Businesses on the Eastern side predominantly include food manufacturers, warehouses and retail outlets. This area of the industrial estate is relatively new. The Western and Central sections have a large concentration of auto wreckers, manufacturing, and legacy sites from previous industry.
Educational approach
The approach taken was to apply educational initiatives in one zone only, the 'central' zone, in order to be able to monitor any improvements in pollution levels from high risk zones. Education was undertaken by Council, with the assistance of the Merri Creek Management Committee and CAPIM. The educational approach involved face-to-face contact every 3-6 months.
A collaborative approach was taken with the mantra 'no photos, no letters, no fines'; this resulted in all businesses permitting Council officers to complete full inspections of their work sites and in particular view any problem areas. During inspections, it was noted that most businesses were not contributing to stormwater pollution. However, a large knowledge gap was identified where most businesses were unaware of the connection between stormwater and local waterways or the connection to the bay.
The monitoring program
The monitoring program included manual grab samples and the deployment of up to 12 passive samplers – foam sponges that collect and concentrate contaminants gathered in stormwater drains. CAPIM trained City of Whittlesea staff to deploy and retrieve the passive samplers. Samplers were retrieved and substituted for new ones every 2-3 weeks. The collected samples were tested for sediment, hydrocarbons and heavy metals.
A large number of businesses were contributing to pollution in the stormwater as a result of stockpiling polluting material without adequately protecting stormwater inlets. Examples include:
A large garden supply company was stockpiling large quantities of soil on the immediate and an adjoining property. During rain events (nutrient-rich) soil would enter the stormwater system. After repeated visits there was still no attempt to improve operations, and this case was therefore referred to the EPA.
One particular site was stockpiling large quantities of fire extinguishers; this was identified as a hazard by CAPIM. The EPA was engaged and worksite was cleaned up over several weeks.
Several auto wreckers use the space in front of their building to disassemble cars, and stockpile car parts, which meant that oil, fuel and radiator fluid was getting into the stormwater system. One business was presented the diesel soaked sampler and straight away improved their site practice.
Another key contributor to stormwater pollution was the practice of on-site wash-downs. Examples include:
A trucking business with large earth moving machinery was conducting wash-downs on the property and producing large amounts of sediment pollution. They are now more aware of the impact their sedimentation is having on local waterways and have taken appropriate action.
A small meatworks business was sending daily wash-downs directly to stormwater rather than to sewer. This problem was only identified while wash-down was happening. The company has since stopped wash-downs to stormwater and direct these to the sewer system instead.
Other pollution examples include:
A small business was undertaking renovations and painting, and paint flecks were found lodged in a passive sampler. Once the actual sampler was shown to the business owners, they were quick to remedy the issue.
One auto repair shop had an illegal connection to stormwater. Whilst some businesses corrected the issues immediately, others said they it was the responsibility of the owner / landlord. The auto-repair shop connection has since been corrected.
A number of old drums from previous owners / tenants were found on several sites. The contents were mostly unknown to current tenants – Council is currently looking for a suitable contractor to remove, test and dispose of drums appropriately.
Note: The western side of the catchment showed consistently elevated levels of pollution in some areas (e.g. arsenic and hydrocarbons). Soil contamination due the long-term presence of heavy industry in this area may have been contributing to these results. Further investigation is needed to confirm this.
Drivers and Objectives
The ultimate objective of the project was to improve the health of the Merri Creek by reducing the levels of pollution entering Edgars Creek via stormwater runoff from the Thomastown Industrial Estate. Further objectives included:
To determine pollution hot spots in the Thomastown Industrial Estate (previously shown to be a heavy contributor to stormwater pollution in the catchment).
To provide ongoing education to businesses within the industrial estate to raise awareness about the link between stormwater quality and the health of our waterways.
To improve the amenity value of key downstream waterway assets in neighbouring municipalities (e.g. Edwards lake in Darebin).
Organisations
City of Whittlesea
Melbourne Water
Centre for Aquatic Pollution Identification and Management (CAPIM)
Project Outcomes
Council officers engaged with about 400 businesses within the industrial estate and achieved:
Improved awareness around the links between stormwater quality and the health of our waterways;
Improved engagement with Council staff – Conversations between council staff and business owners/managers allowed the latter to vent and often revealed other issues contributing to the level of pollutants (such as high traffic loads) that council could help (and did) address. This enhanced trust and cooperation with between council and industry. Some business owners even alerted council officers to pollution events seen in the catchment.
Partly reduced contaminant loads – Overall monitoring indications suggest the education program was partly effective in reducing contaminant loads to stormwater. In catchments receiving education, there was a measured decrease in the presence of some heavy metals (such as silver, cadmium and mercury), but this was not a consistent trend for all pollutants tested (metals and hydrocarbons).
Other project outcomes included:
The optimisation of processes for monitoring, education and enforcement. Initially, passive samplers were set and retrieved every 2-3 weeks, but this protocol has since been revised. An optimised approach is now to monitor a particular catchment for a period of 6 to 8 weeks coupled with education delivered to businesses in the catchment:

The shorter period of investigation makes it more manageable for Council staff, and allows for a quicker return of chemical analysis results.
Simple visual examination of passive samplers can identify certain pollution events involving the release of sediment, hydrocarbons, detergents or animal products, or the excessive release of water.
Regular visits to businesses in the catchments can often reveal if businesses are actively polluting stormwater or have a high risk of polluting stormwater.

Great opportunities for education in local schools in the areas of environmental science, chemistry and applied research. Council supports environmental education groups such as the Merri Creek Management Committee and the Darebin Management Committee to deliver stormwater education to local schools. Education examples include identifying water bugs, conducting population surveys, building frog bogs and explaining how stormwater pipes are connected to waterways using maps and guided tours. Council is also developing a new engagement model with schools using aquaponics and environmental sensing equipment.
Lessons Learnt
Education is time intensive but valuable – the education program was very time intensive, with council staff engaging with businesses twice a year for the whole industrial estate (400 businesses; Council officers would spend about a day a week visiting businesses). This long-term investment however seemed to pay off, with increased awareness and some improvements in the quality of stormwater runoff. The vast majority of businesses were happy to comply as long as they knew what they have to do (i.e. learn about site management practices).
Complement education programs with other methods – Education was shown to be effective, but some businesses were recalcitrant and the high turnover of businesses in the area made education difficult. Enforcement programs as well as a permit program for new businesses entering the estate could help with early intervention. For example stormwater education programs could be delivered to every new business entering the Estate.
Use a soft approach ('no photos, no letters, no fines') to create trust between council and businesses, resulting in open-door policies and more complete pollution assessments – you will have a better idea of what is happening in the catchment. Some businesses may also happy to volunteer information that could help identify polluters.
Review all businesses - target all businesses in a catchment in an initial sweep of the area. Some businesses are obvious polluters or fit into the high risk category. Pollution from low risk businesses may be harder to spot, but can still exist (e.g. cross-connections, disposal of wash-down solutions, and incorrect storage of chemicals).
Engage with EPA early on to allow for effective collaboration in more difficult cases with recalcitrant businesses.
Current fines are too low - current published fines appear too low as some incidences of poor business practices continue. It is suggested that issuing higher fines together with a consistent education program should help ensure sustainable uptake of onsite stormwater management practices.
Response times are critical - passive samplers have a slow response time in relation to point source pollution events. As technology improves, pollution mitigation efforts would be greatly enhanced with real time pollution monitoring equipment (e.g. Internet of Things). This could include water related sensors, air samplers and other sensors that could detect variations from normal stormwater signatures.
Project Cost
The 2 year monitoring and education program cost was $200k. This included:
a $100k cash contribution from Melbourne Water
a $40k cash contribution from City of Whittlesea and
an additional $60k in-kind contribution from City of Whittlesea.
Timeframe
The monitoring project ran for 2 years. It started in July 2014 and finished in July 2016.
Contact
Michael Godfrey (Melbourne Water)
Acknowledgements
Melbourne Water's Living Rivers Program contributed to the funding for this project.