Climate Visuals - Evidence-based image library to catalyse public engagement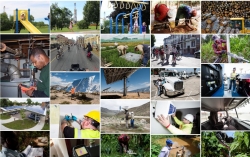 06/12/2018
Are you preparing a presentation, campaign, blog post or article about climate change related challenges? Do you know which photographs would best support your message?
The Climate Visuals image library, created by Climate Outreach, provides photographs to assist people communicating the urgent human stories behind climate change to create a more diverse, relatable and compelling visual language.
Are you concerned about intellectual property rights and related fees? Good news, many of the photographs are available to download for free under Creative Commons licenses for use in blogs, articles and campaigns.