How to guide: Planning a green-blue city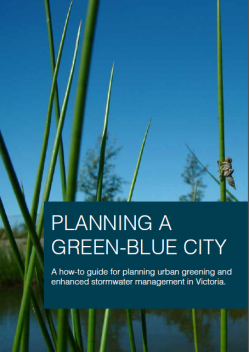 17/07/2017
A how-to guide for planning urban greening and enhanced stormwater management in Victoria.
This how-to guide has been developed by the Department of Environment, Land, Water & Planning (DELWP) to assist cities and towns in planning for increased presence and effectiveness of green-blue infrastructure in their urban areas. It is designed to assist councils and their partners in:
Developing a robust and locally tailored evidence base for green-blue
infrastructure opportunities
Identifying green-blue infrastructure opportunities at all scales
Reviewing opportunities for greatest benefit and value
Allocating priority projects and key actions
Identifying delivery pathways and funding mechanisms
The guide will assist councils in developing the core components of a green-blue infrastructure action plan that will inform and drive council-led initiatives.
Who should use this guide
This guide has been developed for the use of local government, in particular for the councils of cities and towns in Victoria. Within the council, involvement will be required from a range of stakeholders with varying skills and responsibilities, including:
Planning
Environment
Landscape
Engineering
Roads and transport
Operations
Communications
Economic development
Asset management.