Managing Victoria's Water Resources - How Much Water?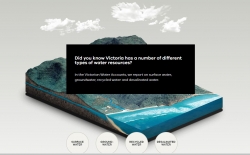 18/09/2019
The Victorian Government has prepared accessible and easy to use resources to help Victorians understand how the government manages our water resources.
It is important for Victorians to understand this complexity in a time when climate change and population growth have led to a decline in Victoria's water storage levels.
The How Much Water? site offers a pictorial online resource which gives excellent overview information on:
how water management is allocated across a range of authorities
how water entitlements are managed
lessons learnt from the millennium drought
the amount of water available for consumptive and environmental purposes
responsibilities for monitoring and reporting
The site also allows a user to delve deeper into figures around water storages, water use and the flows required to maintain environmental balance.
This site links to pages on:
Further information is also available through the DELWP Water Catchments website.