Outcomes of the Clearwater prioritisation of our services process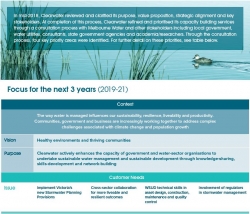 23/01/2020
In mid-2018, Clearwater reviewed and clarified its purpose, value proposition, strategic alignment and key stakeholders. At completion of this process, Clearwater refined and prioritised its capacity building services through a consultation process with Melbourne Water, local government, water utilities, consultants, state government agencies and academia/researchers.
Our Program's service offering has adapted to align with the changing needs of the water sector and emerging trends and challenges. Clearwater's capacity building services have expanded from stormwater management to incorporate technical and non-technical aspects of water sensitive urban design (WSUD) and integrated water management (IWM). Clearwater regularly undertakes a comprehensive planning and evaluation process to ensure the program is responding to current industry needs.
Through the prioritisation consultation process, four key priority areas were identified:
Support industry to implement Victoria's new Stormwater Planning Provisions
Provide WSUD technical skills in asset design, construction, maintenance & quality control
Explore opportunities for cross-sector collaboration for more liveable and resilient outcomes
Better understand the involvement of regulators in stormwater management
We'd like to extend our thanks to the people that have been involved throughout this process, and encourage anyone who is interested in getting involved in these initiatives to get in touch with us.
For further detail on these priorities, please see attached pdf.