Urban Greening Monitoring and Evaluation Factsheet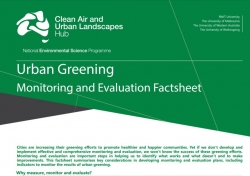 20/02/2020
Cities across Australia are investing in urban greening to promote healthier and happier communities. But how can we determine the success of these greening initiatives?
The CAUL Hub is a consortium's four partner organisations the University of Melbourne, RMIT University, the University of Wollongong and the University of Western Australia and covers research areas of air quality, urban ecology, urban planning, urban design, public health and green infrastructure.
Investigating how monitoring and evaluation can help identify what works and where to make improvements. A key finding suggests that measuring the success or failure of green spaces isn't as simple as documenting the number of new trees and plants introduced to an area. Instead, the focus should be on the multifunctional benefits of urban greening, such as the impacts on biodiversity and people's health.
Read more about the key steps involved in developing monitoring and evaluation plans, including urban greening indicators, in this CAUL Hub factsheet.