Australian Guidelines for Water Recycling (Phase 2) - Augmentation of Drinking Water Supplies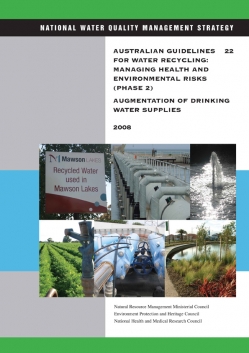 01/05/2008
This document is one of the three that comprise the second phase of the Australian Guidelines for Water Recycling, which address health and environmental risks associated with water recycling.
The guidelines as a whole are designed to provide an authoritative reference that can be used to support beneficial and sustainable recycling of waters generated from sewage, grey water and stormwater, which represent an underused resource. The guidelines are intended to be used by anyone involved in the supply, use and regulation of recycled water schemes, including government and local government agencies, regulatory agencies, health and environment agencies, operators of water and wastewater schemes, water suppliers, consultants, industry, private developers, body corporates and property managers.
The guidelines describe and support abroad range of recycling options, without advocating particular choices.