Designing for a cool city: Guidelines for passively irrigated landscapes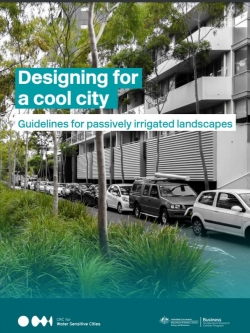 21/04/2020
The CRC for Water Sensitive Cities has released new passive irrigation guidelines providing high level advice on how practitioners can design urban landscapes to integrate with different streetscapes and settings. The Australian focused guidelines look at key considerations for construction and maintenance.
The guidelines do not provide detailed design information or standard engineering drawings but focus on the concepts and key considerations for successful delivery to achieve healthier trees, turf and gardens for multiple benefits including cooler cities.
The guidelines, drawing on CRCWSC research and prepared by CRCWSC partner E2DesignLab, aim to:
increase industry awareness of passively irrigated systems
identify opportunities for incorporating passively irrigated landscapes
increase industry capacity to deliver these systems successfully
Landscape architects, urban designers and planners, water sensitive urban design (WSUD) specialists, civil engineers, road designers and local government authorities will find the guidelines useful.
Watch an interview discussing the key features of and concepts in the guidelines with design experts and contributors from E2DesignLab .