Guidelines for stormwater harvesting on Melbourne Water drainage assets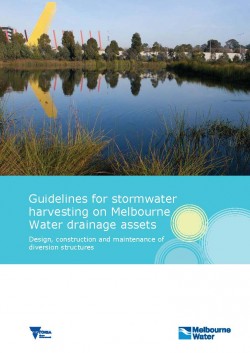 16/02/2016
Stormwater has been identified as a relatively untapped water resource with potential to be utilised more productively to substitute existing demands on potable water supplies and to meet the water needs of new developments. Also, use of stormwater is a prerequisite for the protection or restoration of urban waterways.
To assist stormwater harvesting proponents Melbourne Water has developed standard drawings and associated technical guidelines for the design, construction and maintenance of diversion structures for stormwater harvesting on Melbourne Water assets. These drawings and guidelines will:
assist proponents and applicants in developing a suitable design likely to be supported by Melbourne Water
ensure that Melbourne Water's operational and environmental requirements are met and the outcome is therefore consistent with our stormwater harvesting principles.