Melbourne Water MUSIC Guidelines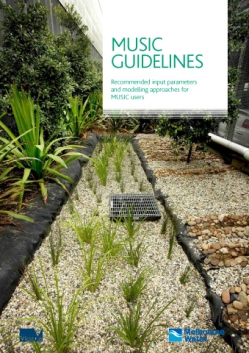 21/12/2016
These guidelines are aimed at supporting those submitting MUSIC (Model for Urban Stormwater Improvement Conceptualisation) models to Melbourne Water. They provide guidance on input parameters and modelling approaches for MUSIC that are recommended by Melbourne Water.
The objectives are to:
Ensure a consistent scientifically based approach is applied to MUSIC models
Provide guidance on methods specific to the Melbourne region without inhibiting innovative modelling approaches.
Reduce the time taken by Melbourne Water in assessing models.
Users are expected to have an understanding of water sensitive urban design principles and approaches and have knowledge and training in the use of the MUSIC software.
This document is a modelling guideline, and should be read in conjunction with appropriate design guidelines such as:
WSUD Engineering Procedures: Stormwater (Melbourne Water, 2005)
Melbourne Water Constructed Wetlands Design Manual (Melbourne Water, 2014)
You can also use the updated MUSIC Auditor to assess MUSIC models and check that they comply with Melbourne Water's MUSIC guidelines (Note: You need to register your details on the website to get access to the tool)