Yarra Strategic Plan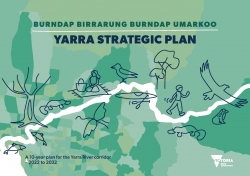 11/02/2022
Burndap Birrarung burndap umarkoo, the Yarra Strategic Plan, is a ten year plan to manage and protect and enhance the Yarra River, Birrarung and its significant parklands as one living and integrated entity.
The plan, launched in February 2022, is the first to be developed in partnership with the Wurundjeri Woi-wurrung Cultural Heritage Aboriginal Corporation. The actions in the plan respect and support both the Wurundjeri Woi-wurrung and Bunurong Traditional Owners to co-manage the river and its lands on their Country.
The plan will better protect the river and its parklands from the impacts of climate change, urbanisation and population growth. It brings together land use planning and management for the first time to protect and enhance the natural beauty and health of the Birrarung. This is a pioneering approach to improving the Yarra's parklands for a growing population, protecting important environmental and cultural values while enabling an array of outstanding river and parkland experiences.
Through the Yarra Collaboration Committee, the plan will drive a collaborative governance approach to coordinate action and investment across public agencies, harnessing business as usual activities and initiating joint actions to get the best outcomes possible for the Yarra River, Birrarung.