Hot Topics Seminar - Introduction to Water Sensitive Urban Design (WSUD)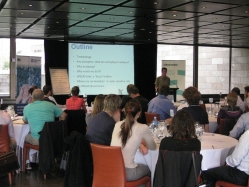 26/10/2010
On Tuesday 26th October Clearwater in partnership with Melbourne Water presented the Hot Topic seminar "Introduction to Water Sensitive Urban Design'. Speakers included academic researchers, industry experts and local government practitioners. Presentations on the day focussed on the principles and reasons for adopting water sensitive urban design outlining how it can help develop water sensitive cities for the future.
Attendees to the event were involved in discussions that:
Helped foster a deeper understanding and appreciation of water sensitive urban design
Showcased a variety of WSUD initiatives (small and large scale) to make WSUD familiar and accessible
Described strategies and approaches for implementing WSUD
Highlighted the importance of stakeholder engagement and a multidisciplinary approach on WSUD projects
The event concluded with a tour of the NGV stormwater harvesting systems.