New technologies for mitigating risks of stormwater reuse for food growing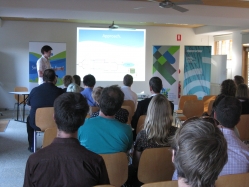 31/03/2011
This presentation delivered by Dr McCarthy from the Centre for Water Sensitive Cities at Monash University, discusses the performance of two systems in treating paved surface run-off, compares the test results of treated vs untreated roof water, the performance of stormwater storage systems and evaluate the human risks of using stormwater to irrigate food crops.
This two year research project at CERES environment park in Brunswick tested;
two recycling systems (a Enviss porous pavement system and a RootZone reed bed filter) in treating stormwater runoff from a paved surface.
the performance of the Enviss porous pavement system in treating roof runoff.
The yield from both systems was used to irrigate market garden crops at CERES.
Clearwater organised this event in partnership with the Centre for Water Sensitive Cities and Smart Water Fund who provided funding for this project.