2009 Water Sensitive Cities Study Tour Reports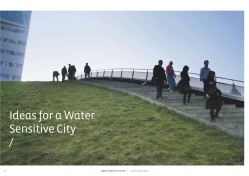 11/11/2009
In April 2009 a group of 15 diverse professionals from across the Australian water sector travelled to Europe and Singapore to discover what it takes to create a water sensitive city.
The 'Water Sensitive Cities 2009' tour aimed to strengthen the knowledge-sharing networks that are so vital for bringing about change and adoption of best practice approaches to address the pressing challenges facing cities in Australia and around the world.
As social scientists, engineers, landscape architects, educators and more, the group continue to build the professional networks and champions that can grow this vision and drive further ideas and innovation as our cities become a hub of sustainability action. To help do this the group has developed two reports.
The first was pitched at leading thinkers and decision-makers and sets out a vision for Australian cities and eight recommendations to help continue our city's journey as world leaders in this field. This first report was launched by special guest Professor John Thwaites on 5th November 2009.
The second report was officially launched by City of Melbourne Councillor, Cathy Oke on the 12 July 2010 in Melbourne. This report outlines a wide range of ideas inspired from moments on the tour, to assist and inspire peers and decision-makers to work together towards the goal of a Water Sensitive City. The ideas have been grouped into seven categories:
> Capacity Building
> Community Engagement
> Facilitating Change
> Champions and Leaders
> Technical Solutions
> Future Planning
> Other Great Ideas
The study tour group challenges you to see how many you can implement!